We have the equipment and technology to support our prototyping and low run machining and assembly services.

Within our 14,900 square foot facility, we have the equipment and skilled team members to assist with all your prototyping, low run machining, and assembly needs. From CNC machines to boring and milling to quality control, Action Tool & Machine, Inc. can meet the requirements of a variety of projects.  Our equipment includes:
Manufacturing-
Our manufacturing capabilities include machining, assembly, prototyping and low run machining.
---
Equipment Capacity-
Turning capability of 50" diameter x 160" long (conventional) and 36" diameter x 60" long (CNC)
Boring Mills – the largest with a capability of 72" x 144" work area and a 6" diameter spindle (CNC)
CNC Milling capability to 64" x 40" x 32"
Inspection department is complimented with a Brown & Sharpe Micro Xcel coordinate measure machine
Complete "Build-to-print" machining and assembly-
Machine tool fixtures and details
Forging and extrusion die sets, details, and tooling
Press Fixtures and machined components
Prototyping and low run machining
Low volume turning and milling production machining – up to 40,000 pieces annually
Part-to-Print reverse engineering service
Design and Build capability
Equipment-
CNC Equipment-
Milling:
One G & L Horizontal CNC Machining Center

5" Spindle Diameter
144" x 84" x 24"
Three Haas Horizontal Machining Center Model EC1600
One Haas Vertical CNC Machine Center Model VF4
One Haas Vertical CNC Machine Center Model VF3

Table Size 48" x 18"
Table Positioning Travel 40" x 20"
Head Travel 25"
Table Capacity 1,500 pounds
Tool Changer Capacity 20 Tools
Fanuc Controls
Complete Fourth Axis Capability
One Haas Horizontal CNC Machining Center Model ES5
One Haas Vertical Machining Center Model VF-2

Table Size 14" x 32" x 20"
Head Travel 20"
Table Capacity 1,200 pounds
Tool Changer Capacity 16 tools
Fanuc Controls
Turning:
Pratt & Whitney Starturn 1800

50 HP Drive
34" x 60" Work Area
18 ½ " Chuck
HAAS SL-30 Turning Center

17" x 32" Work Area
12" Chuck
Boring & Milling Equipment:
One DeVlieg Jig Mills Model 43H

4" Spindle Diameter
Digital Readouts
Horizontal Travel 48"
Vertical Travel 48"
Spindle Bar Travel 18"
One DeVlieg Jig Mills Model 43H

4" Spindle Diameter
Digital Readouts
Horizontal Travel 72"
Vertical Travel 48"
Spindle Bar Travel 20"
Two Knight Vertical Jig Bores

Table Size 24" x 36"
Digital Readout
Two Bridgeport Series 2 Milling Machines

Digital Readout
Variable Speed
Table Size 12" x 48"
Turning Equipment:
One LeHigh Lathe, 50" x 160"
One Victor Lathe, 1993, 16" x 40"
One Kingston Heavy Duty Lathe, 2010, 22" x 60"
One Jet Lathe, 16" x 40"
Drilling Equipment:
One Walker Turner Drill Press
One Delta Drill Press
Grinding Equipment:
One Springfield 2A Vertical Grinder
One Parker Majestic Universal Cylindrical Grinder
One Brown & Sharpe O.D. Grinder
Parker Majestic Surface Grinder

One Boyer Schultz Surface Grinder
One Danobat I.D./O.D. Grinder
One Sharp Wet Grinder

20" x 60" Table
16" Vertical Spindle Travel

Two Moore Jig Grinder
One Blanchard Grinder
Saw Equipment:
Welding Equipment:
Two Oxygen-Acetylene Torch Sets
One Lincoln TIG Welder, 300AMP
One Miller MIG Welder, 200 AMP
One Miller MIG Welder, 300 AMP
Additional Equipment & Accessories:
One Ten Ton Overhead Crane
Seven Jib Cranes, One Ton
Two Jib Cranes, Four Ton
One Sunnen Hone
One Carolina Industrial 30 Ton Hydraulic Press
One 1988 White 10,000 Pound Fork Truck
One Ingersoll-Rand 15 HP Air Compressor
One Kalamazoo 5' x 12" Belt Sander
One Air Dryer
One Ingersoll 30 HP Air Compressor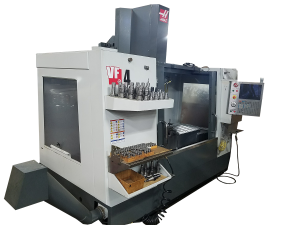 Quality Control
---
Action Tool & Machine, Inc.'s Quality Control Policy is based on:
• Providing our customers with reliable service and products of the highest quality workmanship, value, and durability.
• Maintaining open lines of communication with our customers, suppliers, and employees thereby forging a teamwork approach to create solutions.
• Effectively serving our customers through continuous improvement and steady growth.
ATMI's quality control policy objectives are:
• To strive for 100% on-time delivery and quality.
• To increase communication and participation through team meetings.
• To utilize benchmarking and promote continuous improvements.
Inspection Accessories:
◦ One Brown & Sharpe Micro Xcel Coordinate Measuring Machine, Model 765, XYZ Measuring Range of 32.5" x 22.5"
◦ One Wilson Hardness Testers
◦ Granite Surface Plates
◦ One 48" x 96"
◦ One 24" x 36"
◦ Two 18" x 24"
◦ One 1" through 36" English Micrometer Set
◦ Two 18" Digital Count Height Gages
◦ Four English Gage Block Sets
◦ One .061 Through 1" Gage Pin Sets
◦ Two 12" Mitutoyo Height Masters
◦ One 16" Mitutoyo Height Master
◦ Six 0 through 16" Bore Gage Sets
To receive a quote on your prototyping and low run machining project, contact us at 810-229-6300